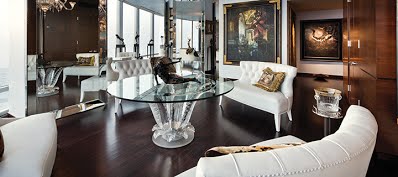 Description
Burj Khalifa Residence - The world's most prestigious address in Burj Khalifa
Apartment
- United Arab Emirates
Dubai
Ref: LUX-Burj
The Residence, located on levels 19-108 of Burj Khalifa, underline Burj Khalifa's reputation as 'A Vertical City'.With 900 residences including studios and one, two, three, and four-bedroom apartments,
The Residence in Burj Khalifa, the word's tallest building, is designed for the connoisseur.
The homes, located on levels 19 to108 of the tower, underline Burj Khalifa's reputation as 'A Vertical City'. Welcoming visitors at the lobby reception of The Residence is World Voices by the renowned artist Jaume Plensa. Comprising 196 cymbals representing the 196 countries of the world (at the time), the installation symbolises the global collaboration that made Burj Khalifa a reality.
For the convenience of homeowners, there are elegantly designed Sky Lobbies on Levels 43, 76, and 123. Adding to their lifestyle choices are state-of-the-art fitness facilities including Jacuzzis on Levels 43 and 76. The Sky Lobbies on 43 and 76 both feature swimming pools and a recreational room that can be utilised for special events and receptions.
'A Living Wonder,' Burj Khalifa is described as a 'Global Icon' by the Council on Tall Buildings and Urban Habitat, an honour bestowed on tall structures only once in 10 or 15 years. Rising gracefully from the desert, Burj Khalifa honours the city with its extraordinary union of art, engineering and meticulous craftsmanship.
At 2,716.5 ft, the 200 plus storey Burj Khalifa has 160 habitable levels, more than any other building in the world.
The Residence offers spectacular views of the city, the Arabian Gulf and the fascinating attractions in Downtown Dubai, including breath-taking performances of The Dubai Fountain. Home-owners are in the heart of a vibrant lifestyle destination.
REF: Burj Khalifa 8406 – 3 Bedrooms – 2728 sq.ft.
Price (AED): AED 11,406,888
* Price (GBP): £ 2,346,582
REF: Burj Khalifa 10401 – 2 Bedrooms – 2108 sq.ft.
Price (AED): AED 9,539,888
* Price (GBP): £ 1,963,190
* The price in GBP may be changed due to the currency exchange.