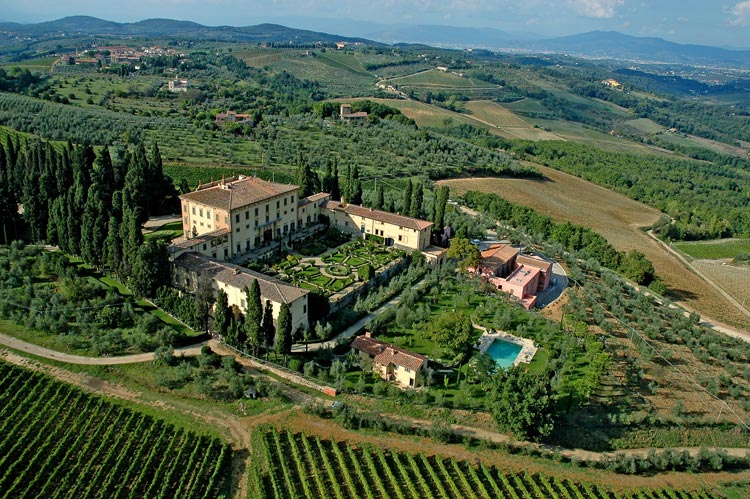 Description
The villa has been owned by some of the most illustrious Tuscan aristocratic families
- Italy
Chianti
Ref: aristocratic
IMPORTANT VILLA IN TUSCANY AREA CHIANTI CLASSICO
The Villa is one of the largest, most prestigious and elegant villas found in the hills of San Casciano, in Val di Pesa, in the Chianti Classico region (above Florence).
It has been owned by some of the most illustrious Tuscan aristocratic families.
The beautiful landscape offers sweeping views of lush greenery extending over about 42 hectares, 25 of which are given over to vineyards and 13 to olive groves. The building consists of a central block and two "L-shaped" wings which house apartments and offices, a chapel and winter garden; to the south, the wings enclose a beautiful Italian-style garden. The interiors are a celebration of colour, tromp l'oeil and allegorical paintings – created at the end of the 17th century by Pier Dandini, Matteo Bonechi and students – adorning the ceilings of the two rooms adjacent to the main hall on the ground floor.
The rooms and parlours on the upper levels, which can be reached via the splendid staircase, are varied in style and luxury.  Throughout its history, the building houses Papa Pius VII when he was called by Napoleon in France for his coronation.